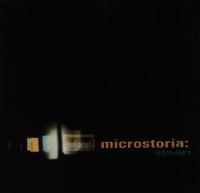 Reprovisers
Thrill Jockey CD Thrill-042
1. C-Schulz & Hajsch - Microstoria Remix

2. Ui - Run? I Jolly Well Won't Run. I'll Be Happy To Get You Chaps Another Ball

3. Violent Onsen Geisha - Endless Summer NAMM

4. Mouse On Mars - Pull Moll

5. FX Randomix - Yaun Twais Oy

6. Oval - Microstoria Runtime Engine

7. Stereolab - Microlab: Endless Summer

8. Jim O'Rourke - NAMM Weekend Pass Mix

9. Christoph Heemann - Jie TZeit

10. Christophe Charles - Feld C

11. Nicolas Collins - Microstoria_Sn
All compositions used Microstoria as source material.

3: Endless Summer NAMM is taken from the split 12" with Jim O'Rourke (track 8)

Reprovisers is a presentation of revivals of tracks from Microstoria's recent snd. Reprovisers is intended as a tribute to an outstanding approach to electronic music in general, as well as an extension of the concept of improvisation.