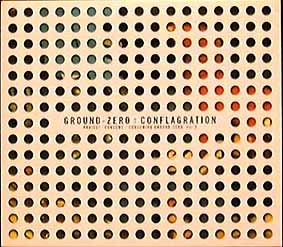 Conflagration
Sank-Ohso Discs/Creativeman Disc CD CMDD-00047
1. DJ Mao - *

2. Gastr Del Sol - Nani?

3. Stock, Hausen & Walkman - Contractions/Extractions

4. Violent Onsen Geisha - What A Way To Die

5. Stock, Hausen & Walkman - Interrogation

6. Bob Ostertag - WUS

7. Dickson Dee - Consume Red (HK 97 Red Noise Mix)

8. Stock, Hausen & Walkman - Constipations
* - untitled

All compositions used the Ground Zero CD 'Consume Red' as source material.

4: What a Way to Die remixed by Violent Onsen Geisha
Equipment: sampler, disk recorder. Additional production and mix by Masaya Nakahara

GROUND ZERO PROJECT: CONSUME is a three volume series. The original recording by Ground Zero, Volume One: Consume Red, which will be followed by remix/reconstruction of the recording in Volumes Two and Three. As the operational title, PROJECT: CONSUME suggests, it will be a documentary of the process of consumption. This is yet another phase in Yoshihide Otomo's SAMPLING VIRUS PROJECT. To be released from Otomo's own Sank-Ohso Disks label.

Volume Two - Consuming Ground Zero: Conflagration Remixes of Consume Red by five of the world's most shocking and unique artists (gastr del sol, Stock, Hausen and Walkman, Masaya Nakahara, Dickson Dee and Bob Ostertag).